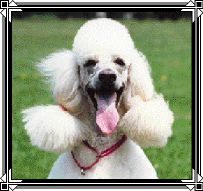 Nanako
As I wrote in the first page, she suddenly came to me in March, 1990.
To my surprise, she was NOT house broken then! Since the day she came, we had to struggle with her house breaking. She was a BIG puppy.
She is sweet, affectionate, always so happy and outgoing. She believes all the human beings are her friend. She has no doubt about it. She needs lots of human attention and sometimes I need to say her like this, "Leave me alone, PLEASE!"
She loves apples and hates fire works and thunder storm.
Nanako is also my good business partner. She is working with me. Part of her jobs are welcoming the clients (she does this by herself.), retrieving fax sheets and the most important one is a demonstration dog at training classes or seminars. She once acted as a model in one training book.
However, now she has been retired from most of her jobs right now. Leanne mainly does a fax retrieving and demonstration works now.

I taught Nanako many tricks too. The photo on left was one of her funniest tricks, retrieving Connie. She shows me Standards are also excellent retievers.
Though she is a big poodle and she looks she is very brave, I soon learned that she is really a 'poodle' at heart.
I mean, she is very sensitive with a good meaning. She is not shy at all but dare not to run a risk. She is very cautious sometimes too. Thus, she has never completed see-saw at agility. <laugh>
At many times I feel she's not easy because she is too smart, too intelligent and she seems she knows almost everything. It is sometimes very difficult to cheat her.

Nanako is also a sin. Many people who meet her once soon fall in love with her. She is such a sweet dog.
She is very good at giving them 'I-want-a-Standard-Poodle-too' disease, however, please remember that not every SP is just like Nanako.